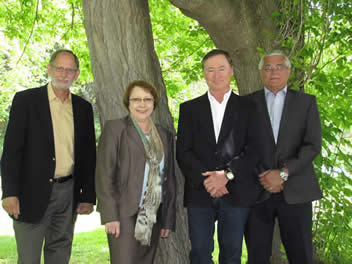 .
Who are we?
We are a partnership of highly skilled senior manufacturing and quality operations professionals with rich and proven experience in international pharmaceutical and medical device operations.
Our approach is highly practical and pragmatic.
We are well networked to provide detailed expertise in all areas of pharmaceutical manufacturing.
We are decisive, focused and direct.
...and with offices in the US and Europe, we cover the world!
Bridge Associates believes that robust manufacturing processes and sleek and effective quality systems are a prerequisite to compete in any healthcare business. Manufacturing can only be strategic when good business practice, good manufacturing practice, and dedicated people come together. Integrating good practices and effectively managing people to consistently make high quality products more cost effectively is key - a perfect balance of systems, technology, and people.
We are unique in our industry - we are not consultants - we are senior managers for hire. We don't just advise - we manage, change, improve, coach, teach, make sound decisions, and help you to reach your business goals. We take ownership of your problems like they are our own. Each of us at BAI has led a highly successful career in the global pharmaceutical and medical device industries, with more than 100 combined years of experience in quality assurance and regulatory affairs, manufacturing operations, laboratory operations, supply chain management, and corporate licensing. We are senior managers who see the big picture but can work equally well in the details of our technical area(s). We are superb agents of change. Most importantly, we know how to leverage systems and people performance to get the best out of an organization and to achieve business results in an increasingly competitive and regulatory compliance-driven environment. We do it every day.
What we offer...
In addition to providing a complete range of pharmaceutical/medical device industrial operations support, we specialize in:
Manufacturing Change Management/Quality Performance Improvement
cGMP/Regulatory Compliance Assessment and Remediation
QA Systems Development and Improvement
Manufacturing Strategy Development
Strategic Manufacturing Project Leadership (SAP introduction, EBR, ERP, etc...)
Manufacturing Excellence
Laboratory Excellence
Laboratory Informatics
FDA Inspection Preparation
As well as specialty areas:
Quality Control Management
Aseptic Processing Guidance
Validation Programs
Visual Inspection Programs and Parenteral Product Assessment
Particle science in process and product quality troubleshooting
Design of Life Cycle approach to control of particulate and physical defects
Particulate and Physical Defect Monitoring System guidance for incoming materials, components, manufacturing, QA-QC and Stability
Lean Labs Program for laboratory assessment, efficiency and compliance
Organizational Assessment and Coaching (Highlands)

Click here for partner CV & Bio.

How may we help you?